Singing – in Mind/In Gedanken: singen
Singing – in Mind/In Gedanken: singen
by Ralf Peters, Stimmfeld, 2023.

A book for all those who want to delve deeper into the human voice.
Description
CAIRH association member and teacher Ralf Peters approaches the voice from philosophical, artistic and pedagogical perspectives. The result is a diverse collection of inspirations for one's own reflection and suggestions for working with the voice.
How can the voice in all its aspects be captured in thought? What does voice liberation mean? What is the anthropological relevance of the voice? What is listening? What is singing?
In Gedanken: singen, Ralf Peters
Überlegungen zur menschlichen Stimme, Hamburg 2020
available here.
Singing – in Mind (2023)
Available on Ralf's blog (one post per chapter). To receive a full pdf-version please write to ralf-peters@stimmfeld.de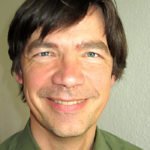 Ralf Peters
was born in 1964 in Germany. He is an extended voice and performance artist, a doctor of philosophy (Thesis: "The knowledge of doing/acting" "Das Wissen vom Handeln" Köln 2000). He works regularly in Germany, France, Switzerland, and has also taught and performed in Italy, UK, China, Taiwan.